Zeek is a REGGAE YOUTH!!!
Anytime were in the car an it is the girls turn for music he says, "Can we PLEASE put it back on REGGAE????"
I LOVE that boy....he is SUGAR sweet!
So you can imagine OUR excitement when we got 3 tix(THANKS RAGGA) for the Stephen Marley concert in St. Augustine!!!
We were sooooooooooooooooooo extremely happy.
It was OUR NIGHT!!!
We got to the amphitheatre RIGHT as the music began playing ....RIGHT ON TIME!!!!
We starte out in the seats because the "pit" was full.
I use the word "pit" loosely...It was a reggae show!
It wasn't a MOSH pit!! LOL
Very QUICKLY I arrive at the fact that THIS was NOT the 1st concert experience my boy was going to have!!!
We wanted to be UP CLOSE an PERSONAL!!!!
SO I said , "This SUCKS!...Lets go there"..an motioned to the front of the stage.
We got there an were sort of just standing there when this guy came up to us.
"Yall want to go onto the floor?"
"YEAH!!!"
So he tol the security guard that we were OK an we went RIGHT IN!
Then in a way I cannot explain...The "pit" opened an we were let right up to the FRONT ROW!!!!!
Now THIS is the 1st concert experience I was talking about!!!!
We stood at the front of the stage an Zeek an Stephens son smile an wave at each other the whole time!!!
PRICELESS!!!!!!
Several times at the show Zeek pivoted around an looked at me just SMILING !!!!
He was sooooo happy!
Then as soon as the show was over... we looked for where the backstage was.
We walked up an stood there looking like we were suppose to be there....LOL
One of the security standing there said..."Their ok"
An we were in!!!
We walked p to the back of the bus an I said to Zeek..."If we meet him you can tell him what your fav songs are."
He was READY!!!
WE walked around the bus an we were FACE to FACE with Stephen Marley, Julian Marley an Ceella Marley!!!
Like a GLORIOUS VISION!!!!
CRAZY!!!
Zeek then acted JUST like me an was soooo starstruck that he COULDN'T say ANYTHING!!
He stood there with a ear to ear grin on his face!!!
Then in true "Jana" fashion, I TOTALLY FORGOT what brilliant thing I was going to say an said..."He LOVES your music!"
MAN...I am such a GROUPIE!!!!
I ALWAYS think about what I am GOING to say an then COMPLETELY FLAIL it!!!
(Note to self: FIX this BEFORE I meet Bobs YOUNGEST son!!! LOL)
So Stephen hugged Zeek tight saying.."Ghetto YOUTH"!!!!
That is when I snapped THIS: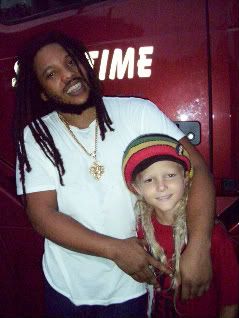 This:
ALSO THIS:
What an AMAZING NIGHT!!!!
An UNBELIEVABLE night in the mix with REGGAE ROYALTY!!!
Best of all was when I asked Zeek what HIS favorite part of the night was an his answer was "Meeting Stephen Marley!"
Sugar sweet I tell ya...That boy is SUPER Sugar Sweet!!!!!