Sometimes something comes along an CHANGES YOUR LIFE.
That is
Pinterest
for me.
This is what my To-Do list used to look like: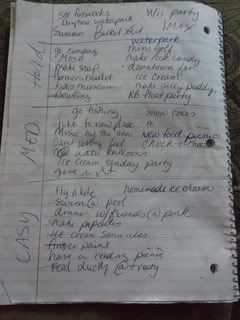 An that WHOLE spiral is FULL of them.
I make them for everything from school to kids appointments to blogging ideas.
I was a List making FOOL.
But now...
There is
Pinterest
an it has made my life SOOOOOOOOOOO much easier.
It is a virtual cork board..of sorts.
On their website it says:
"Pinterest lets you organize and share all the beautiful things you find on the web. People use pinboards to plan their weddings, decorate their homes, and organize their favorite recipes.
Best of all, you can browse pinboards created by other people. Browsing pinboards is a fun way to discover new things and get inspiration from people who share your interests."
My boards include...
Homeschool(homeschool ideas)
We're Crafty(things to make)
Eye Candy(eye candy)
Sugar and Spice(Girls stuff)
Where the heart is(home ideas)
Rastafari

Food
Wordsmith(inspiring Words)
Just to name a FEW.
So you can see...it is a PLANNING GIRLS DREAM!!!
Go...
Run....
If you need an invite...leave me your email.
I promise you that you
WILL
NOT
BE
SORRY.
Happy Pinning!!!!!