Well we had another GREAT Saturday this weekend. Shasha and Zeeks teams are both UNDEFEATED!!!! Shasha scored 2 goals this week. AGAIN. She is a little star!!
Poppy and Donna were also in town from Colorado. Poppy and Donna and the whole family came out for the fun. Mimi, Grandaddy, Fran, and Willy also were their to support TEAM VALLONE!!!!!!Many thanks for all the support!!!!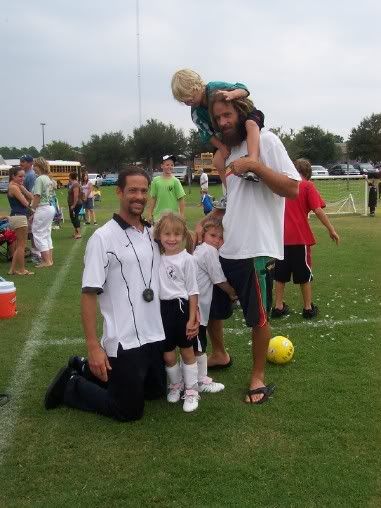 Thank You Uncle Jeff for coaching our team...And Aunt Amy and Uncle Jeff for all the rides for Shashamane. We love you.
Later that Day, we had a RAINY cookout at Jeff and Amys' House....
It was so cute having all the kids together!!!
Give thanks to God for having family. It makes me miss my family in Texas also!!!
We love you all.