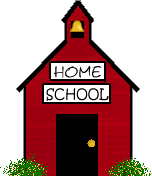 I love Homeschooling...even though it is one of the HARDEST things Ive ever done, probably because of the stress I put on myself!
I love it because it teaches ME discipline.
It makes me wake up thinking about lesson plans, and makes me go to sleep praying for guidance.
It makes me go to Petco and buy a mouse "to study".
And then "in the name of homeschooling" I go BACK to Petco to get ANOTHER mouse because "Princess Fiona" is lonely!!!
I love it because it makes ME learn.
I love the way we have a Bible Study every morning.
I love staying up till all hours of the night making lesson plans or printing worksheets.
I love the way being with my kids all day drives me crazy some days.
I love the way I can have plans for something but when It isnt working, I can change the plans.
I love homeschooling....