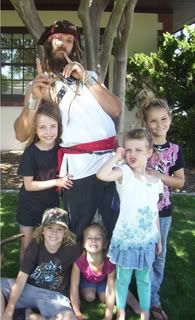 Life is funny.
Sometimes things just FIT. They just seem to come together and WORK.
As I am SURE you all know...I have an AMAZING husband.
He cooks.He cleans. And by "cleans" I mean...He SCRUBS TOILETS.
Don't hate me.
He takes care of the kids.
He coaches flag-football.
He sings.
He writes.
He is an AMAZING hard worker.
TRUTHFULLY....
He is an ALL AROUND WONERFUL person.
Trust me....everyone LOVES him.
He is the LIFE of the party and a TOTAL character.
Which is why it made TOTAL sense to me for him to be a PIRATE.
No...not a "pirate that ROBS you" pirate, more like a "Pirates of the Carribean" fun pirate!
You see...we live in this fun, quirky little tourist town called Saint Augustine.
It is BUSTING with history and "culture".
We have the FOUNTAIN OF YOUTH...yes-the place that they say REALLY is the fountain of youth. And YES...I have drank the water.
We have the OLDEST SCHOOLHOUSE.
We have the FREEDOM TRAIL- The places where MLK visited during the civil rights movement.
And that is JUST A FEW!
THEN- we have the
BLACK RAVEN.
From their website: "The Pirate Ship Black Raven is a one-of-a-kind live pirate show full of music, thrills and pure entertainment! Participate in our adventure, sing along with our crew, and find your inner pirate while you see the beautiful sights of the Matanzas River."
It is a really cool boat and has some really cool people that are "pirates".
So...to me it was a NO-BRAINER when I saw that they were having auditions.
Jay should be a PIRATE!!!
It took a little convincing...
But- he finally agreed to do it!
We watched Pirates of the Carribean LOTS of times.
We listened to pirate songs on youtube for DAYS.
We practiced TONS of pirate JOKES.
We came up with a CREATIVE pirate costume...straight out of our closet!(Scary)
AND
I got to put EYELINER on him!!!
SWEET!!!
Then...
He did it.
He STUMBLED onto the boat and NAILED the audition.
I knew he would.
He was so excited and stoked.
PERFECT.
They called him 30 min later to go out on the boat THAT weekend.
So cool.
The perfect job for the perfect man.
AAarrrrgggggggggg!!!!!!!!!