Last weekend we decided to let the girls go to the beach with Jeff and Amy while we took the boys to the "Green Expo" in Jacksonville.
I love to take them seperately sometimes...
AND- Malachi isnt quite over his
knee injury
quite yet.
We had a great time.
All of the kids LOVE Earth day and Zeek(especially) loves inventions, so this was BIG TIME for him!!!LOL
The boys had a great time learning all about GREEN LIVING.
They were booths on solar panels, organic chocolate, hybrid cars, gardening, GREEN cleaning products, rooftop gardening, algae, florida waterways, the St. Johns river, organic wine, GREEN toys, the COAST GAURD(????) and TONS of other AWESOME booths!!!
Malachi dressed himself in ALL GREEN for the GREEN EXPO.
He even turned his shirt inside out so that he would be "all green".
Ive said it before and Ill say it again...He TOTALLY channels Spicoli!!!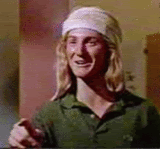 LOVE IT!!!! Check out the "I Love My River" sticker!!! CLASSIC.
Zeek also said after we left..."Mom, when I grow up and be an inventor..I am ONLY going to invent things that are good for the environment!"
I could cry!!!!
Gotta love the "School of LIFE"...