We woke up bright and early this morning to get dressed an ready for Shashas dance recital dress rehersal.
And when I mean DRESSED...I mean totally "gussied" up complete with brown eyeshadow, blush, mascara, an RED lipstick.
At 8am.
We went from THIS: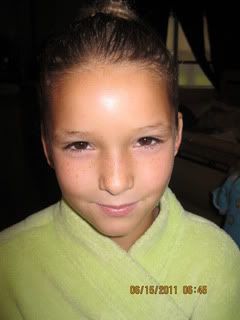 To this: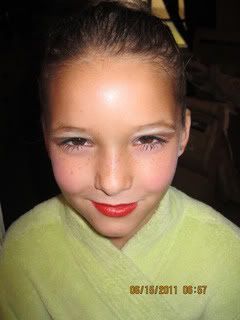 That is right ...I said 8 am!!!!
Then we headed off to the Flagler autotorium in full gear reay for the first of 3 dances.
We got there and "checked in". I had previously(months ago) asked ALL of the girls teachers if I could help backstage. I knew that they would need it and I knew that
being backstage with all the little girls buzzing with excitement was where I wanted to be. Trust me...I am NOTHING if not a "helicopter Mom"...always hovering.
ANd I was right...being backstage in the midst of the
madness
fun, was exactly the right place for me. I got to experience all of it....with her.
It was something I will never forget...
I am so THANKFUL for the wonderful studio and teachers that teach my children things that I couldn't.
Dance was such a wonderful part of my childhood...and it makes me feel so BLESSED when I see my girls involved in something so divine.